The contents of this article are derived from the article, "Ahorran los Pobres?" authored by MJ. (For more information about savings, investment and entrepreneurship, please check the website: Dineromio at http://dineromio.com/)
This is the first part of Colorfulifesite Blog's series of articles about "Adulting and Money Management"
As I finished reading the original article, I immediately imagined a very practical conversation between Colorfulifesite Blog and Dineromio Blog- or at least between me and MJ. It went like this…
Colorfulifesite (C): I can't save money because I'm poor.
Dineromio (D): Of course you can!
C: How? Do poor people save money?
D: Yes!
C: Wow! you're really confident with your answer! What's your basis for being so sure about this?
D: I had the chance to work as a volunteer in a training workshop involving financial education. It was aimed towards adults who find themselves under the risk of social exclusion. Basically, we're talking about people who survive with government subsidies worth 400 Euros (Eur) monthly, in a city where the minimum salary is more than 650 Eur, BUT the median salary is 2,200 Eur and the most common amount earned is around 1,100 Eur per month, after taxes.
C: So, if we analyze the income of the group you worked with: the participants of your workshop were earning ONLY 69% of the minimum salary, 36% of the most frequently earned amount and barely 18% of the median salary. Interesting…
D: I know it's not Baghdad but let's put ourselves within the context, which would allow us to understand how it is to live with 400 Eur in a city where the standard of living is designed to cost 1,100 Eur.
Our objective is quite ambitious: we wanted the participants to identify opportunities to save money and to manage their squalid earnings to the best that they could.
C: What was the initial reaction of the group?
D: At first, the very mention of the word "savings" produced so much rejection: people squirmed in their seats and there were even some who either laughed ironically or who were annoyed. It seemed to them that the mere idea of making them want to save was insulting.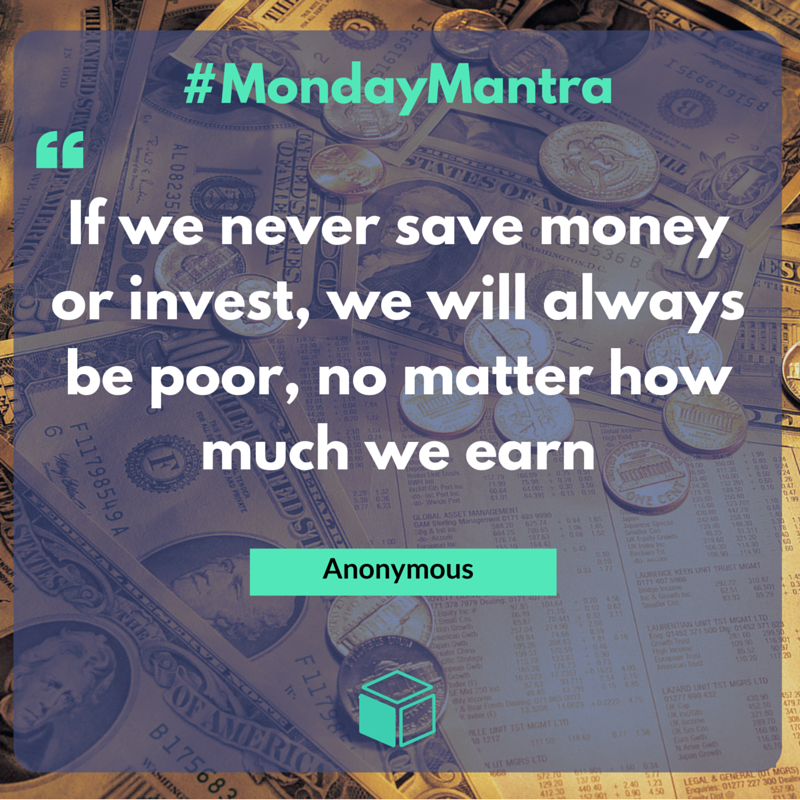 Image courtesy of: Lendbox twitter page
The activity proposed the following dynamics: 1) sharing of ideas and advice from the workshop participants' own experiences, 2) handing out tips on how to lessen expenses in transport, telephone bills, automatic teller machine commissions, etc and, 3) a practical exercise consisting in drawing up a weekly budget (which is the foundation of any change you might want to start in your life)
Except for a few number of cases (approximately 10% of the participants were in dire conditions and suffered from depression and anxiety), the rest of the group were able to detect small changes which would allow them to save "something" on a monthly basis. And such "small changes" could be anything ranging from purchasing generic-branded medicines to starting a small business.
C: This is INDEED encouraging!
D: I read an article by de Boza Chirino, José y José I. Zabaleta. In it, they pointed out that many people belonging at the "base of the pyramid" (that is, the income pyramid, where people who are at its base could be earning as low as 2 USD per day) build their savings IN KIND: a hen to maintain until the time comes for the family to buy medicines, a cow to take care of until school starts (when tuition fees have to be paid)…
What I'm trying to tell everybody is this:
EVERYBODY CAN SAVE. THE KEY IS TO HAVE SOMETHING THAT MOTIVATES US TO DO SO.
C: I actually remember my grandmother buying jewelries and then saying that it's an investment, in the sense that she could sell them in case of an emergency.
D: I'm going to share with you a small list where I listed different alternatives to start build microsavings (the type of savings accumulated by the people at the base of the pyramid). These are the most frequently-used ones nowadays. I also included their advantages and disadvantages:
1. Informal savings made through family members, friends, "informal" money collector, hiding money under the mattress and savings in kind.
Normally, the person who wants to save requests a family member or a friend to safeguard his money so he won't have any "temptation" in his own home. Sometimes, he also makes small investments like buying a hen or a goat, which he could later sell.
The main advantages are: the money's immediate availability (although this is not always the case), as well as the fact that other people manage the risk of keeping money.
The main disadvantages are the high costs and risks this type of savings entails, such as loss, theft, or systemic risks that affect the whole community caused mostly by natural disasters.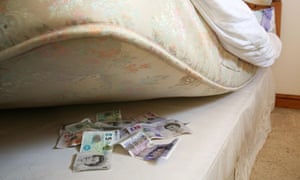 Image courtesy of: http://www.theguardian.com
2. Rotating Savings and Credit Associations (ROSCAS) are composed of a group of individuals that fill the role of an informal financial institution through repeated contributions and withdrawals to and from a common fund (Investopedia).
Joining this type of association gives high incentives to save, and the members are confident of its strict organization and administration.
The disadvantage is that it can be costly due to its strictness in its rules and regulations; members are also faced with the possibility of the group's dissolution before having been able to receive the lump sum rightfully theirs. ROSCAS are also susceptible to losses, robbery and systemic risks.
3. Last and not the least, we  always count on banks or Microfinance Institutions where we could open an individual savings account. Banks' services are highly demanded due to the security it offers, as well as the stability of the organization.
However, the monetary costs (in terms of fees and commissions) are high incentives to NOT save. Also, the geographical location of banks may discourage potential savers because of the need to travel just to be able to deposit a certain amount…
C: Thank you very much for sharing your experience. I'm pretty sure this imaginary conversation of ours has already done its job to inspire our reader to save money. Would you happen to have any tips to make saving less "painful" than how it sounds?
D: Yes, but that would occupy another whole post!
C: I'll advise my dear reader to keep in tune, then…
Image courtesy of: http://www.lifehack.org/