On How I Acquired Loans Responsibly
The first time I formally owed money was when I took on a store credit to buy a bed. I was 22 years old and just moved out of my parents' house.
Needless to say, I was very nervous when I signed the papers. I grew up in a family where borrowing money is a big no-no and I have always been told that it could bring a lot of misery and trouble. I've seen families fight, children who cut all contact with parents and even friends who stopped talking to each other because of money lent and borrowed to one another. Because of all that, I was afraid to get any kind of credit and was doubtful about my ability to honor the payments. It didn't matter that I had a one year contract at work, neither that I had 8 months to pay it off, nor the fact that there was no interest rate applied (the store had a special promotion).
Knowing what I know now, I only wish somebody could've told me that:
at some point in life, it would be necessary for me to borrow money,
there are ways to not be enslaved by loans and,
it is possible to live happily with debt, if one borrowed money responsibly.
Image courtesy of: http://mzansilive.co.za/
The importance of taking the time to honestly reflect
So far, no debt has financially strained me to a cracking point. I guess the reason is because I think more than twice before acquiring a loan of any kind. All the scary stories and the horrible experiences I witnessed from peers and friends have served as a starting point in each and every debt decision I've ever made.
I usually go by the motto, "If you can't buy it in cash, you can't afford it". So whenever faced with a buying dilemma, first I evaluate the usefulness or the value of what I'm going to buy:
-How long will I use/enjoy the item?
-Will its value increase our decrease over time?
-Can I sell the item if I find it of no use to me in the future?
Secondly, I examine my current financial standing:
-Why can't I afford it?
-Is it a problem of liquidity (availability of cash or other means of payment), or a matter of really not having enough resources to purchase the item?
-Can I perhaps save for it today and buy it in the future? Or would the item increase in price by the time I have enough money saved?
Lastly, I make sure that paying for such debt would not cause a great dent on my future quality of life. Technically, this could be achieved none other than by sitting in front of a calculator, pen and paper (or a spreadsheet) and start crunching the numbers.
When choosing a creditor, go with the one who offers the best terms of payment FOR YOU
You might ask, "How is it even possible to have a debt and live comfortably?". It IS possible.
The first condition certainly would be to not overwhelm yourself with loans. Borrow only the amount that you are able to return.
Equally important is that this could be achieved if you invest time and effort in searching for a creditor whose terms of payments suit your situation.
Below, I've made a list of the most important purchases I've made on credit. All of them have one thing in common: I got them at 0% interest rate. This is where the time and effort came in: once I set my mind to getting something extra-special that needs a financial sacrifice (debts make you sacrifice your future purchasing capacity), I start browsing the market (virtually and physically) for different kinds of offer. Personally, I prefer to go to a physical store and talk to the salesperson. I've always gotten the best deals through one-on-one negotiations.
Some stores give you the option to determine how many installments (usually in months) you need to pay the credit off. In these cases, I always chose the least possible. The soonest I can get out of the debt, the better.
Past credits to stores:
Bed: 8 months
Thermomix: 3 months
Wedding earrings: 3 months
House appliances (dishwasher, refrigerator and microwave oven): 4 months
Credit card debts (payable 3 months after purchase):
Plane tickets
Hotel reservations
Outstanding debt:
Student Loan
The role of emergency savings
It's important for me to briefly discuss something about my outstanding debt.
As I've said, I don't pay interest for this loan. So every month, a flat rate gets deducted from my bank account. This would go on until the principal amount has been paid off; and according to the terms I signed, it would still take some time before I see that day arrive. This is to say that the greatest risk I face is the suspension of my steady revenue flow before fully paying the loan; in my case, it will be unemployment.
Truth be told, I actually faced this situation not long ago. I lost my job, but luckily I was eligible to receive unemployment allowance. However that too, was a limited source of income. So when it got depleted, I had to tap my savings- my emergency savings. I had to set aside such amount that would allow for one whole year of payment for this loan while I search for a job. (I simply decided that it would take me one more year before getting back to work.)
Fortunately I am now back to having a salaried employment, and it didn't take me one year!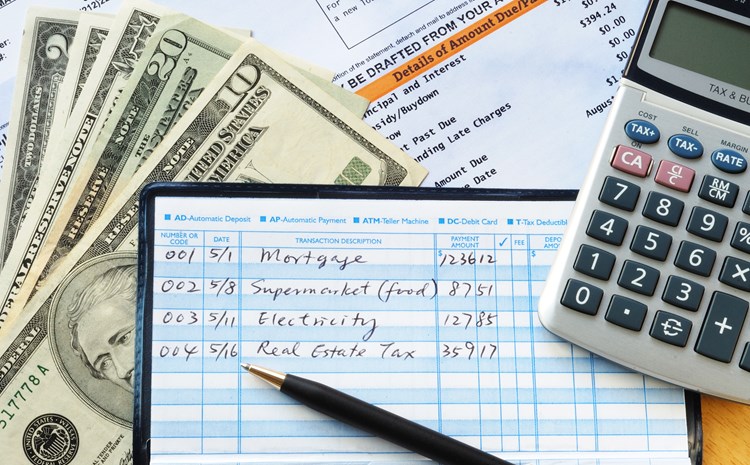 Image courtesy of: https://www.agingcare.com
So now, until that debt gets paid off, I consider each monthly installment just as I budget fixed household costs (ie: rent, electricity, water, food, etc…), like what my friend Edward mentioned in this post. At the same time, I exert a conscious effort to increase my savings, especially my emergency savings.
I am aware that most people's idea of having emergency savings is for it to be used during a health crisis, a natural calamity or the death of a loved one. But emergency savings also have to cover whatever household needs there are when the regular flow of income is interrupted, or reduced.
DO NOT TAKE UP LOANS FOR THINGS YOU DON'T REALLY NEED
Half a year after having a regular job with a stable salary deposited in my bank account, I also started to receive letters from the bank informing that I have automatically secured a 3,000-Euro loan! I also got an instant approval to avail a "golden" credit card from the same bank. To top it all, my husband also got the same letters!
We just threw those in the garbage.
My husband and I could've enjoyed the "easy" money back then. But we decided to be frugal and live within our real means.
On Personal Loans
My attitude towards personal loans is even more strict and rigorous than with the formal ones. As far as relationships go, I try very hard not to let money get in the way. Actually, the best way to preserve a relationship is to set money matters aside. But when times get tough, to whom would one go for help? To a friend or family member, right?
In my limited experience on personal loans, I've always carefully chosen the people who I plan to borrow money from. They should be financially comfortable enough to lend the amount I will ask, without having to sacrifice their quality of living. They should also be people I greatly trust and who trust me equally. Additionally, I choose those who I believe are unafraid to call my attention in case I forget to pay, or give them the incorrect amount.
It's very important to be clear that the money being passed from one person to another is eventually going to be returned the other way around. If you're lucky to have a friend or family member who would insist that the money be a gift instead of a loan, then enjoy! Otherwise, be clear on the terms of payment: interest rate, installments, "deadline", and so forth. Trust me, it's not worth losing a loved one over money.
Responsible borrowing
Acquiring loans responsibly takes a lot of time and effort, just like any other "adulting" activity. Although compared with other "adulting" decisions, this will cause a direct and immediate effect on your quality of life in the near future- once the payments set in.
It would seem boring and tiresome but it's worth thinking more than twice before deciding to take up a loan. Then once the decision has been made, it becomes even more important to take a moment to search for the most suitable creditor and to plan your new budget considering the periodic installments.
Borrowing responsibly also means being prepared for various risks that might mean having difficulty in making the payments (such as being unemployed). For this reason, it's important to factor in an additional amount in one's emergency savings when preparing the new budget.
One risk worth remembering is the temptation of acquiring an "easy" loan with seemingly "comfortable" terms and conditions. I have never heard of anybody live comfortably with a loan that was used for something they didn't really need.
Lastly, responsible borrowing entails mixing personal and financial affairs the least possible. Though when inevitable, another round of reflection, research and budgeting has to be made, all in order to be able to live happily even when indebted.
Image courtesy of: http://www.smartcampaign.org/